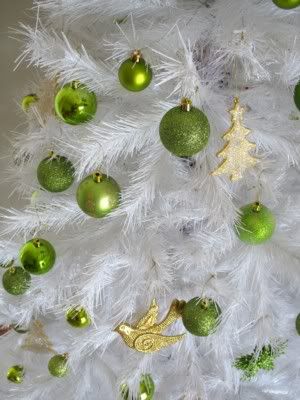 As a kid, the first day of December was just as exciting as Christmas Eve or Christmas Day. I'm not sure if it's a Roman Catholic tradition, or just something our family has picked up from somewhere unknown to me, but December 1 means putting up the Christmas tree and opening the little square marked with the number '1' on a colourful cardboard advent calendar.
I'm fairly nostalgic about our old Christmas tree that we had when my sisters and I were little. It was tall and lush green, with big red bows and golden ornaments of musical instruments and little bells. Our coloured lights would sing Christmas carols, and you couldn't be sure if the musty smell was the tinsel or the old nativity set. It's these memories that make me incredibly fond of using traditional Christmas colours and ornaments around the home.
You can only imagine my reaction to mum announcing that she wanted a white tree this year with lime green and hot pink. The thought was revolting. Maybe not as revolting as our blue/purple/silver theme in previous years, but the mental images screamed a hot breath of 'tacky'!
Down in the land of Oz, December 1 not only marks the so-called first day of advent, but also the first day of Summer. We don't get snow. Hell, we don't see reindeer or even want to imagine being covered completely in a red felt suit and fluffy night hat. We try to be as naked as possible and drink as many alcoholic beverages on ice as we can. So why oh why would it make sense to get a white tree?
But alas, mother put up the tree yesterday (which does turn out to be the first day of advent by Roman Catholic standards), and she proved me wrong. The white is so peaceful and calm, and it seems as though lime green and gold was a theme made for that tree. She put so much effort into decorating it, and while we still don't have lights for it yet, I think it looks lovely.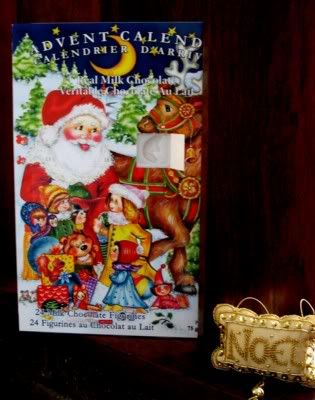 I hope you all have a great start to the advent period, and don't forget you can get your German Lutheran on, and open the first window of your calendar this morning!
Note: mine doesn't have illustrations on the inside flap like they used to :-( ;
(You will also notice that I contradict myself in saying we shouldn't believe in having white Christmases in Australia by clearly buying myself a calendar with Scandenavian imagery - but hey. We're dreamers. We can't embrace what we have, so we pretend we're totally going to be roasting chestnuts on an open fire this year)
Count your sleeps x